Custom Create Your Milwaukee Kitchen Remodeling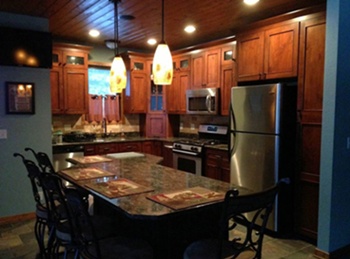 Top Milwaukee Home Remodeling Services
In many ways, your kitchen is the center of your home. It is where you make the meals that feed your family, try out new recipes, entertain guests and bake cookies at the holidays. Having a kitchen that looks fantastic, feels fantastic and is durable is of the utmost importance to the memories you will create there. If your kitchen is lacking a warm and inviting feeling, let Custom Creations make it happen for you.
All Custom Creation's Milwaukee kitchen remodeling projects begin with a free consultation with one of our kitchen designers. Together we will do a walkthrough of your kitchen, discussing your wants and needs while considering the layout and available space of your home. Kitchen renovations must have effective design for easy movement within functional space to create not only visual appeal but also to fully provide the atmosphere and convenience you desire. We will help you decide the best options for you, from your kitchen plumbing features to your new kitchen cabinets. Every detail matters when it comes to creating your ultimate new space.
We can tackle as small of projects as flooring, cabinets or counters, as well as take on full renovations and kitchen expansions. Custom Creations takes pride in each and every one of our residential Milwaukee kitchen remodeling projects, and strives for perfection every time. Our reliable, speedy and quality methods are the perfect ingredients to achieving the kitchen of your dreams. From a large kitchen renovation to a small kitchen remodel, Custom Creations has the recipe for satisfaction.
Simple Solutions Grading and Snowplowing, LLC and Custom Creations is your one-stop-shop for local, full-service general contracting needs in Milwaukee and the surrounding areas. We provide you with superior quality kitchen and bathroom remodeling, basement renovations, home additions, lawn care service, snow removal and ice control. We are your Simple Solution to a fully insured and licensed Milwaukee contractor delivering the results you deserve.
Contact the best Milwaukee kitchen remodeling contractors at Custom Creations for your kitchen remodeling projects in Brookfield, Waukesha, New Berlin and surrounding areas.