Simple Milwaukee Lawn Care from Simple Solutions
Simple Solutions Grading and Snowplowing, LLC knows exactly what your lawn needs. Our trained professionals will work hard to make your outdoor living space a place to enjoy. We provide a multitude of lawn care services and service all communities in Milwaukee Country, Waukesha County, Washington County and Ozaukee Country.
The front yard is your guest's first introduction to your home. Keeping it maintained can be a daunting task. Make life simple by hiring Simple Solutions to do the work for you.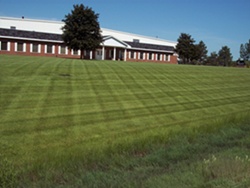 Simple Solutions Grading and Snowplowing, LLC delivers lawn mowing, aeration, overseeding, weed control, lawn fertilization, tree trimming, downing and planting services. Our landscaping expert's horticultural knowledge ensures Simple Solutions knows when to prep, plant, treat, maintain and renew your lawn. Maintaining the health of plants is the key to beautiful landscaping. We work with our customers all year maintaining and preparing landscape designs.
Different environments, soils and plants require different maintenance. Our horticulture experts will work directly with you ensuring longevity to your landscaping.
Southeastern Wisconsin Lawn Aeration Services
Lawn aeration is an important part of yard maintenance. Aeration is the process of making small holes in grass allowing for oxygen to filter into soil. Oxygenated soil results in a lush full yard of grass. Simple Solutions provides lawn aeration as a solo project or as part of a complete ongoing landscape project.
We are your respected Southeastern Wisconsin lawn care company.
We are your concrete and pavers experts for all exterior projects. Simple Solutions Grading and Snowplowing, LLC will install fire pits, patios and more creating an outdoor living space. Outdoor living spaces are a great environment for friends and family to gather.
Contact our Milwaukee lawn care and landscaping professionals at Simple Solutions Grading and Snowplowing, LLC.